Embassy of the Islamic Republic of Afghanistan in Islamabad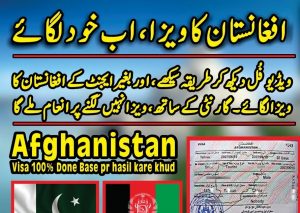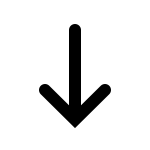 >> Afghanistan Embassy Islamabad Location <<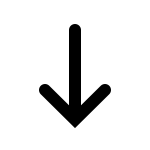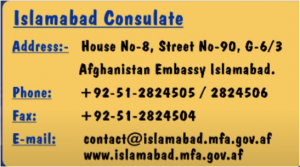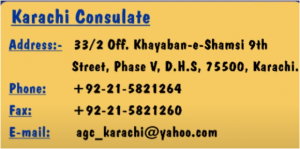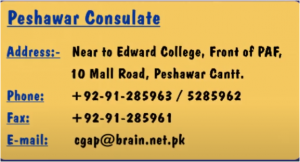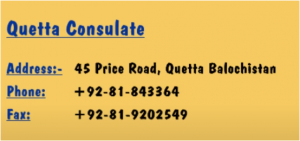 | | |
| --- | --- |
| Saturday | Closed |
| Sunday | Closed |
| Monday | 9AM–5PM |
| Tuesday | 9AM–5PM |
| Wednesday | 9AM–5PM |
| Thursday | 9AM–5PM |
| Friday | 9AM–5PM |
Afghanistan Visit Visa Requirements Documents, Eligibility & Fees
PASSPORT
It must have minimum two blank pages for the visa stamp.
It must be valid for 6 months ahead of the span of stay.
Photo
The photographs must be provided as per the given photo specifications
It must cover face 80% of the frame.
It must be of proper size with dimensions of 35×45 mm (length – 45mm, breadth – 35mm).
Two copies to be submitted with general photo guidelines.
It must be clicked on an all-white background.
It must be a recent photograph.
Any kind of glasses must not be worn in the photograph.
Air Ticket
It is an important document and it should be submitted for the given reason
Air tickets should be confirmed for the two-way trip.
It must be confirmed for the complete round trip.
Eligibility for getting Afghanistan Vfr Visa
In order to be eligible to travel to the country on a visa, you will have to meet the following eligibility criteria.
Be a genuine traveller-You must have a valid and good intention behind travelling to the country.
Eligible to bear all expenses –You must possess sufficient funds to support yourself and any dependents throughout the stay.
Reasons to return – You must have strong ties in your home country that will ensure that you will return after your stay.
Be of good character – You must have a clean criminal track record and be of good character. You may have to provide PCC (Police Clearance Certificate) for the same.
Be in good health –You must at least meet the minimum health requirements required by the authorities.
Visa Fees for Afghanistan Vfr Visa
| Entry | Stay Duration | Validity | Fees |
| --- | --- | --- | --- |
| Single entry Normal | 30 days | 3 months |  0.0 |
| Single entry express | 30 days | 3 months |  2812.0 |
NATIONAL ID CARD COPY